You've all seen our Ichabod logo - but do you know what it means?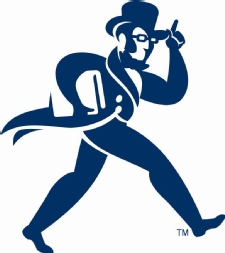 According to the designer of today's iconic image, Bradbury Thompson (sounds familiar, no?): 
"He has courage and enthusiasm, as shown by his brisk walk. He is democratic and courteous, for he tips his hat as he passes. Sincere in his search for truth and knowledge, he studiously carries a book under his arm. His friendly smile makes you like him. He is neatly dressed and he fits in well with his generation … but he adapts himself with equal ease to any change or any age." 
In one single image, Bradbury Thompson managed to convey so many traits that Washburn students display on a daily basis - even back in 1938.
Maybe some styles have changed, but we believe that today's Bods are all of the above and more - basically, all around great people.  We are proud to call ourselves Ichabods! 
Today, we came across this FANTASTIC photo from Instagram user @randiannii featuring another Instagram user, @brett_r_johnson doing his own BodWalk, and we wanted to share it with you.
Have you ever done the #BodWalk?  It's time to break out that top hat and show us what you've got!
(By the way, come hang out with us on Instagram, and tag your #BodWalk photos!)